Pressure makes diamonds. Pressure also makes sports stars. It separates the wheat from the chaff, the men from the boys, the champions from the also-rans. How many of us have made that jump shot, that putt, or bowled the yorker on middle stump when we are alone in the play ground? When we are pretending to be watched by the entire world as we shoot the buzzer beater in game 7 or win the masters or a test match against Australia, whereas its just us? Real pressure is different- "when he boasted that he could shoot the stem of a wine glass from a hundred yards, I asked him, can you shoot the stem of wine glass when the wine glass has a rifle pointed at your heart?" That's pressure.
But pressure is not always positive, even for professional athletes. Anyone who saw the Japanese Grand Prix last weekend got a glimpse of how pressure can melt prospective world champions into bumbling bafoons. Contending for their first title, Felippe Massa and Lewis Hamilton drove like teenagers on adrenalin, overshooting corners, hitting each other and other drivers, before finishing 7th and 12th respectively. So if you are cheering for Hamilton, would you construct an environment of pressure around him that would make it more difficult for him to win the championship? For that is exactly what the British press is doing.
The Sunday Times has 24 pages devoted to sports. A recent issue had 20 of those pages devoted to football. There is also a 12 page football supplement on Mondays. The Times has five dedicated sportswriters for football alone. There is also The Telegraph, The Guardian, The Observer, The Independent, Daily Express, Daily Mail, Metro, Evening Standard, Daily Mirror, The Sun, and News of the World that have their own extensive sports sections. How to feed this beast? Where to come up with stories through the news cycles to fill all these pages, to sustain all these journalists?
So when Liverpool plays Chelsea, out come stories about Steven Gerrard switching clubs and going to London. There is then a round of denials, followed by some Chelsea player saying they would love to have Gerrard. The Liverpool chairman is quoted as saying Gerrard is "not for sale at any price". Inter-Milan jumps in with their interest. Reports emerge of a threat to harm his family if he moves from Liverpool. Why he doesn't replicate club form for country starts becoming a topic again. Can he play with Lampard? Should he be center of mid-field, left of mid-field, or in a forward role behind the striker? You are starting to get the picture.
Before long he f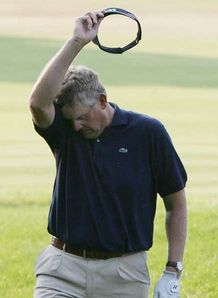 eels the pressure. Every time he steps on the pitch he feels the pressure. Every time he has a bad day at the office, the pressure multiplies. One of the greatest mid-field players in the world is questioned again and again until perhaps he himself starts believing the press and becomes a shadow of the player he can be whenever he dons the national colours. Tim Henman probably felt the same pressure every time he stepped onto the hallowed grounds of Wimbledon. It's probably not a coincidence Colin Montgomery won eight European Orders of Merit and still kept striking out every time he was in contention for a major.
In Italy there is a newspaper dedicated to sports called "gazetta dello sport", but the broad sheets like La Repubblica or Corriere della Sera devote no more than 4 to 6 pages to sports. Le Monde in France usually gives 2 pages to sports. Will British athletes start performing better if there is less attention from the press? Interesting question, but I don't think we'll ever find out.